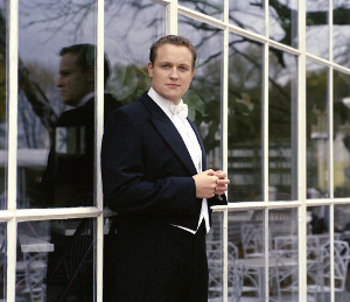 Finnish-German tenor Herman Wallén studied with Roland Hermann, Hartmut Höll and Mitsuko Shirai at the Staatliche Musikhochschule Karlsruhe, Germany. He is a laureate of the Wigmore Hall International Song Competition in London and the Franz Schubert und die Musik der Moderne International Singing Competition in Graz. He has won first prizes in the singing competition of the Hugo-Wolf-Society in Stuttgart 2001 and the prestigious Lappeenranta Singing competition in Finland.
2002-2004 Herman Wallén was an ensemble member of the Komische Oper Berlin and 2004-2007 a member of the Oper Leipzig ensemble. Further guest appearances have led him to the Salzburger Festspiele, the Opera Festival in Savonlinna, de Nederlandse Opera Amsterdam, Opera Carlo Felice in Genua and to many different festivals in Europe and Asia. He has worked with renowned conductors such as Riccardo Chailly, Marek Janowski, Paolo Carignani, Sakari Oramo, Kirill Petrenko, Hannu Lintu, Carlo Rizzi, Michael Jurowski, Lothar Zagrosek, Wolfgang Sawallisch, Okko Kamu and sang with leading singers of our time, such as Anna Netrebko, Rolando Villazon Jonas Kaufman and Thomas Hampson.
Apart from opera, Mr. Wallén frequently performs as a recitalist. His repertoire includes, next to sacred music by various composers and orchestral songs by Mahler, Sibelius and Strauss, all major song-cycles by Schubert and Schumann. He has performed as a soloist with the Rundfunk-Orchester Berlin, the Helsingborg Symphony Orchestra, the NDR Symphony Orchestra, the Deutsches Symfonie-orchestra, the Württembergische Staatsphilharmonie and with all the important orchestras in Finland.
Herman Wallén has a special interest for contemporary music. He has premiered musical works by Jouni Kaipainen, Heinz-Juhani Hofmann, Benjamin Schweitzer, Daniel Smutny, Juhani Nuorvala and Markus Fagerudd, amongst others. His recording of the opera Ahti Karjalainen, elämä Kekkonen ja teot in which he sang the titel role has recently been published by Alba Records. Herman Wallén has also made CD and DVD recordings for the labels Claves, Deutsche Grammophon, Wergo, JPC and Ondine